Synergy Dance Ensemble
Synergy Dance Ensemble is our performance and competition group for dedicated dancers who want to participate in local performances, master classes and competitions across Florida. We have small and large groups teams in Jazz, Lyrical, Contemporary, Tap and Hip Hop for dancers age 5 through 18. Participation is by audition or invitation only and requires attendance in a minimum number of dance classes per week, some weekend rehearsals, as well as several weekend performances and competitions throughout the year. Contact the studio for more information on how you dancer can join the team.
Our

Facility
Our facility is conveniently located on the NW corner of Royal Palm Beach and Okeechobee Boulevards. We are located in the north end of the Village Royale Plaza, next to Los Agaves Mexican Restaurant. Our lobby has ample seating with closed circuit television of our dance classes so that parents may watch their child while learning in class. Our three dance studios have mirrors, professional ballet barres, sound systems, and flooring designed specifically for dancers. All of our studio classrooms are painted in bright and fun colors that would make almost anyone want to dance!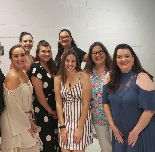 Instructors & Staff
All of our instructors are qualified adults who either hold a degree in dance or education or have extensive professional performance and teaching experience. Collectively, they have over 100 years of teaching experience. They have danced for college and professional dance teams, performed in revues at major hotel chains and theme parks, judged for national dance competitions and more. One thing they all have in common is their love of dance and watching their students grow as dancers.